This is the official website for singer songwriter guitarist Brad Alford where you can get news about new music and schedule updates as well as sample and purchase Brads music. 2021 is sure to be a banner year. Looking for information to bring Brad to your town, event or company party? See the contact us section of the site and send us an e-mail. Purchase and download Brads music here. 
Thanks for stopping by and we hope to see you soon.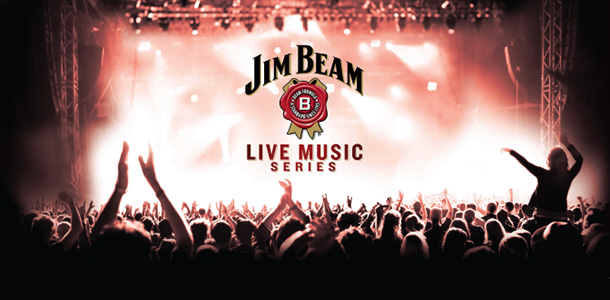 WINNER OF THE JIM BEAM COUNTRY MUSIC CARAVAN NATIONAL TALENT SEARCH
UPCOMING SHOWS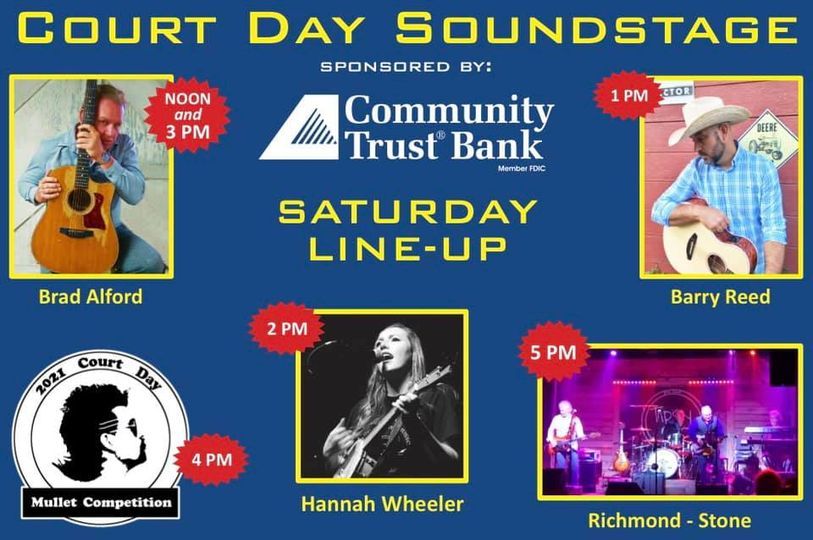 Below is the updated final music schedule for Saturday Oct 16th' 2021 Court Days Musical festivities. Friday Oct 15th I'll be on channel 36 somewhere between 9AM and 10AM doing a live interview about the music and Court Days. There's usually some seating but not nearly enough. Bring a folding chair if you'd like. Ill kick off the day just me and my guitar at noon. I'll play again FULL BAND at 3 PM right up to the Mullet Contest with Classic Rock 92.1's Beer Man at 4 PM. I was scheduled to play again at 5 PM but was able to get my friends Richmond Stone to play at the last minute so they will fill that spot. Top notch players if you haven't heard them you need to. They will be at Joes on Main at 8 PM that night also. There's an awesome line up this year also with Hannah Wheeler and Barry Reed. This is a free show for all who attend. 30,000 +people in town that day. Hope to see you there. It's gonna rock !!! 
BRAD ALFORDS NEW MUSIC VIDEO...CLICK HERE !!!!!!!!
CLICK HERE TO FOLLOW BRAD ON FACEBOOK !!!!!!
 LIVE! SATURDAY night SEPT 18th!  Spend Saturday with us in Lexington.We've got live music and the bourbon ready! Sing along with Kentucky music legend Brad Alford Saturday night from 8 to 11 PM.

 Reservations can be made for our 
DoubleTree Suites by Hilton Lexington
 hotel online at bit.ly/DTLexington.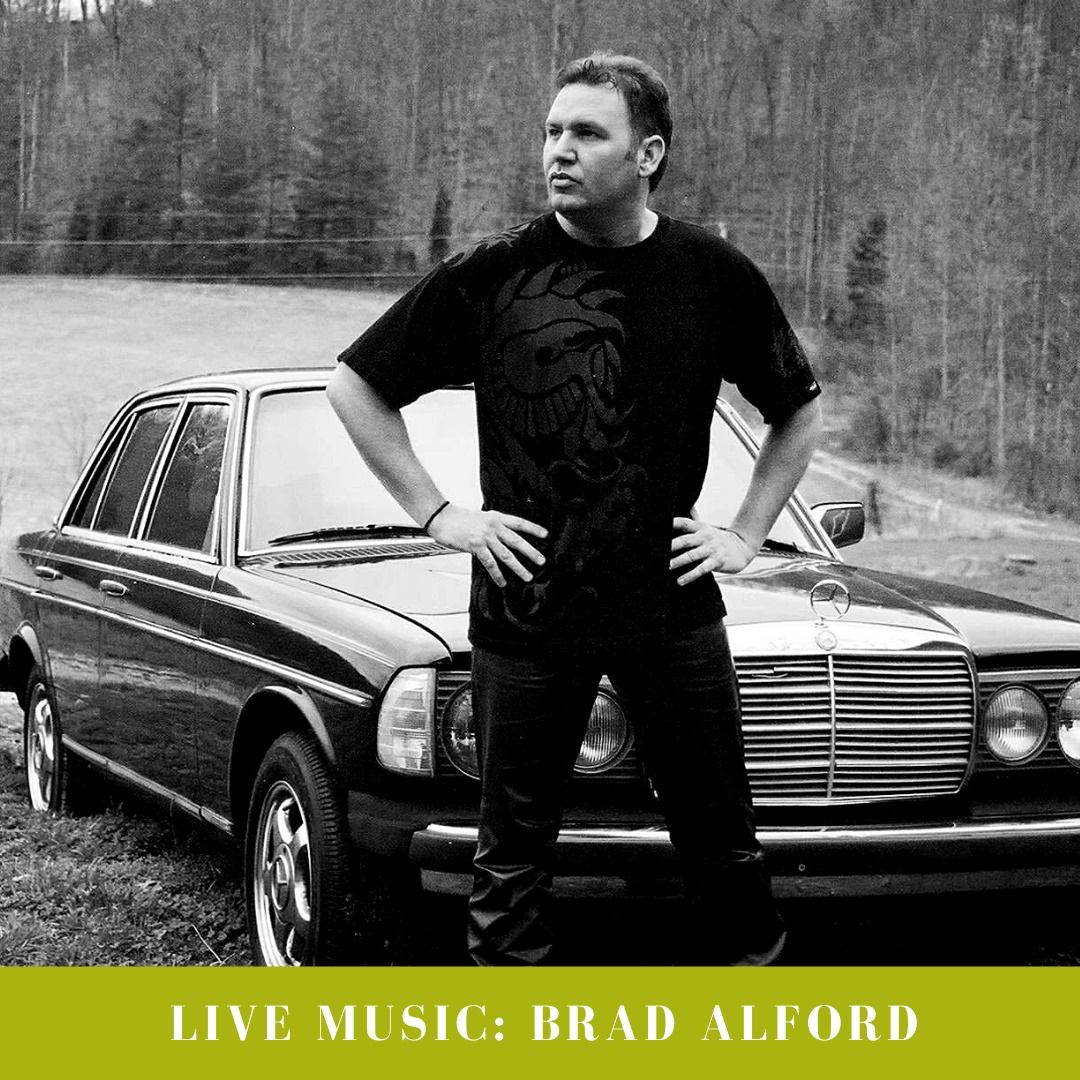 SALT LICK KY !!! Ill be jammin out at the McCartys Annual Throwdown in the country. Fearing road, SEPT 4th, Music starts at 7 PM. Great food, drink and great people, Its been 14 months without playing due to Covid. Feeling the need to play somewhere other than the porch. Hope to see you there.
Don't forget this Saturday  I'll be at Double Tree by Hilton at The French Quarter Suites Lexington,KY. 8-11 PM. No Cover!!.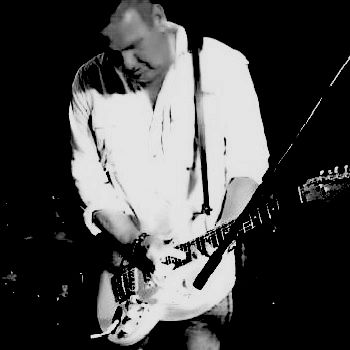 ''SAD NEWS FOR 2020''
ALL SHOWS FOR 2020 SUSPENDED UNTIL FURTHER NOTICE DUE TO COVID 19.
''STAY SAFE''
New Years Eve, Goodbye 2019,hello 2020 !!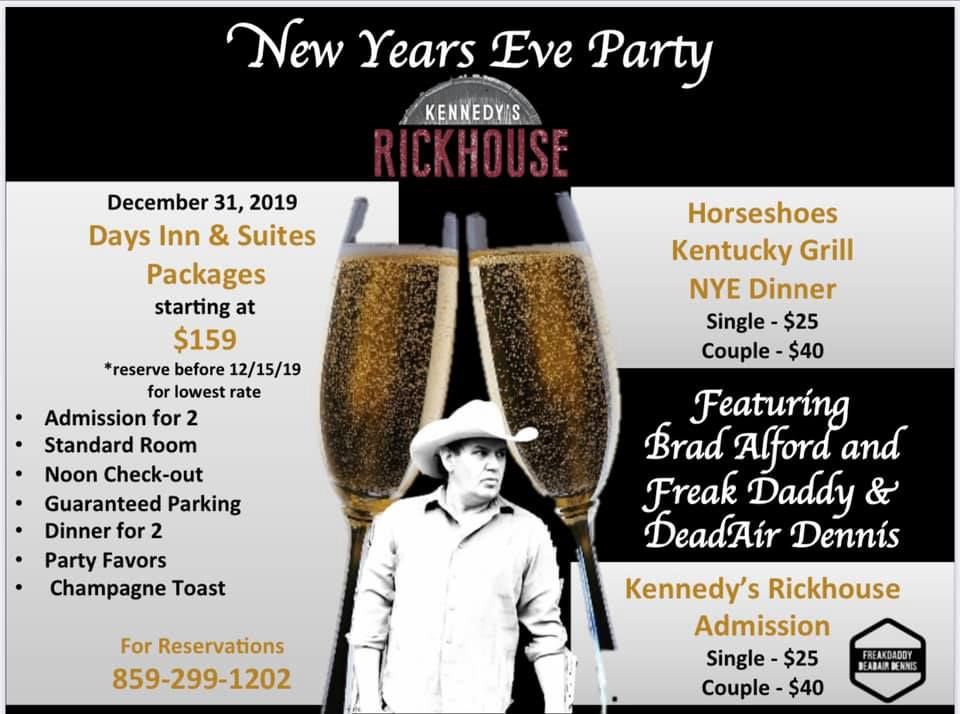 COMMUNITY TRUST STAGE COURT DAYS CONCERT
October 20th, 2019 Mount Sterling, Ky
Cliff Kretzer  12 PM - 1 PM
Dead Air Dennis and Freak Daddy from WKQQ 1:20 - 2:40
Brad Alford 3 PM - 5 PM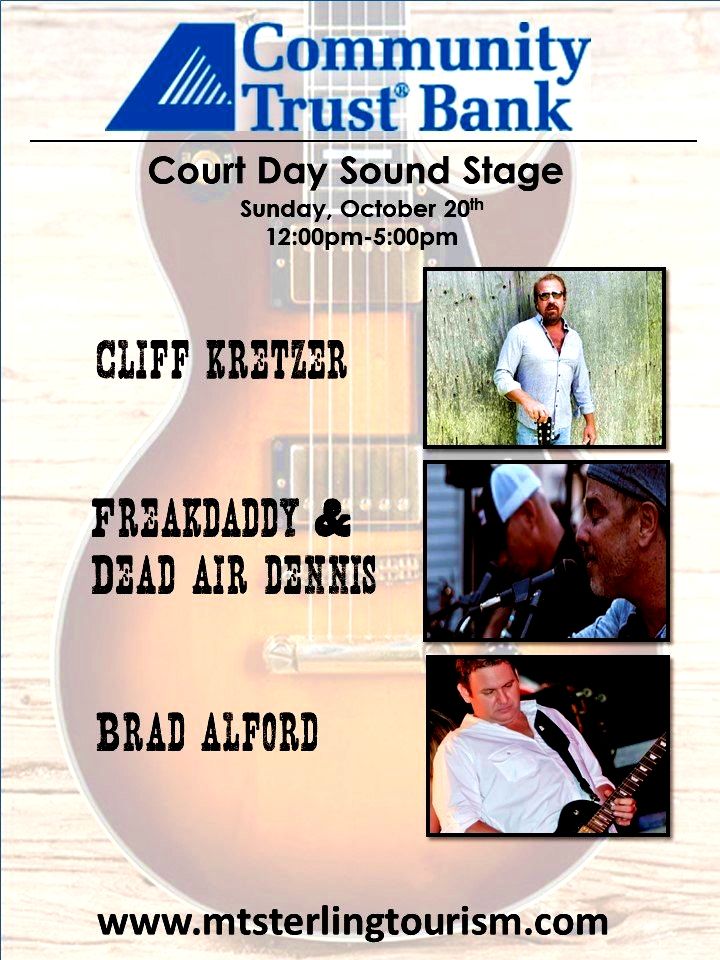 Check out Brad Alford on Youtube
https://www.youtube.com/results?search_query=brad+alford
Click here for Brads New Music for 2019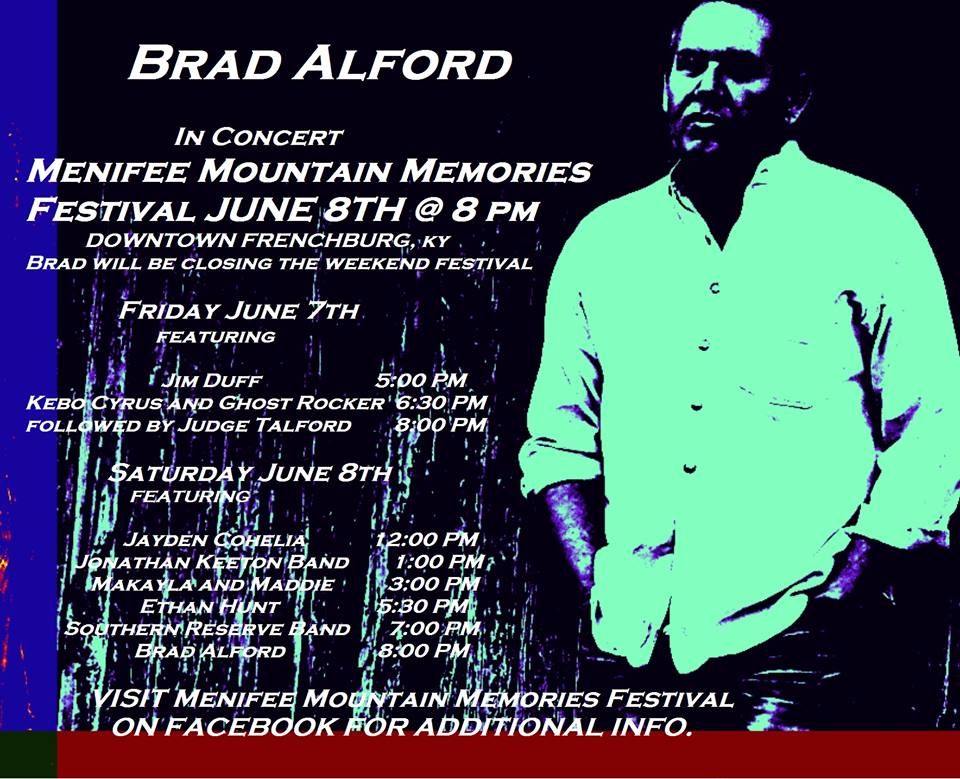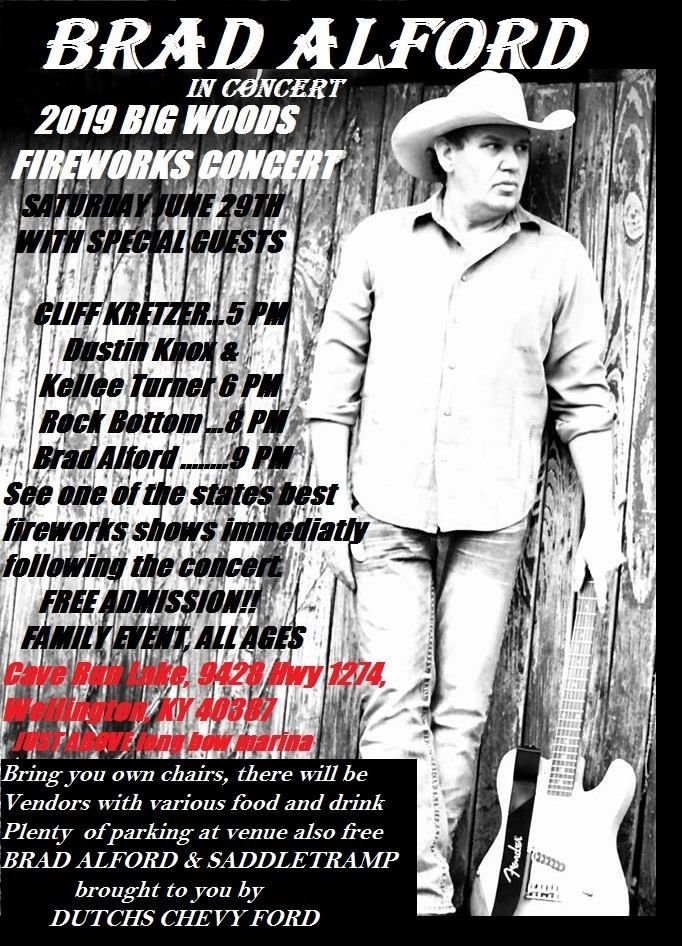 OTHER EVENTS !!
Chenault Vineyards , Richmond , Ky , Oct 5th 2019  tickets $20
Carrie & Taylor 3:00 - 5:30 PM
Retro Synphony 6:00 - 8:00 PM
Brad Alford 8:30 - 11:00 PM
Big Woods Fireworks Concert line up 2019
June 29th, 2019, Just up from Long Bow Marina. Cave Run Lake, 9428 Hwy 1274, Wellington, KY 40387
Red River Revival ..... 6 PM - 7:45
Rock Bottom ..............8 PM - 8-45
Brad Alford ................9 PM - 9:45
Menifee Mountain Memories Festival, June 8th,2019 Frenchburg ,KY 7 PM
Friday Night Live, Mt Sterling, KY  Aug 2nd 2019 6-9 PM
Donothan Wedding party reception, Aug 3rd 2019 7 PM
Quaker Steak and Lube, Final Bike night.
Cincinnati OH.  OCT 10TH 2019 THURSDAY 6-10 PM
Clark County class reunion at Woodys July 20th 2019 8 PM